So, like I said in my last post, I love giving stuff away. It's just the bestest ever! Now, thanks to Sew,Mama,Sew!, we have our own special day in December just for that, with it's own button and everything (which of course makes it official)!
Ahm, in addition to the 25th, that is. Because December 25th is just the ultimate in give-away days, am I not right? So spread the word! Not about Christmas, silly. I think pretty much everyone has that down (my grocery store started in with the decorations shortly after Halloween, and a week ago I spied a neighbor putting out holiday decorations. Complete with snowman snow globe. Ack! Hm…I'll try to keep the mini essays bound by parentheses at a minimum. Sorry about that).
Even if you aren't interested in the giveaway, be sure to check out the Sew,Mama,Sew! Blog. They have some awesome tutorials for handmade things, and gobs of amazing fabrics in their Shop.
Now, back to our own lovely giveaway! This week…dum da da dum…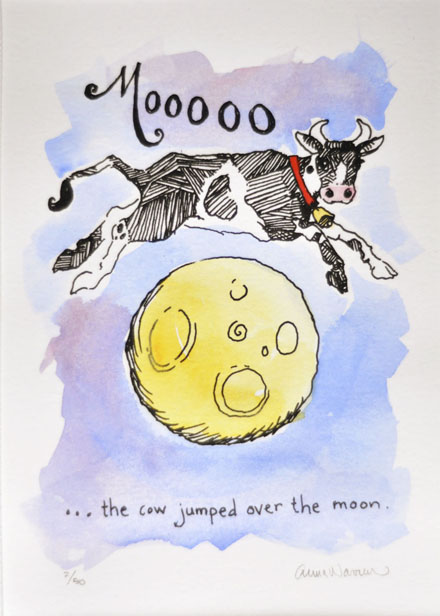 The Cow Jumped Over The Moon!
A whimsical take on the nursery rhyme, "Hey, Diddle Diddle!" This is a 5×7 black and white gocco print, carefully hand-painted in watercolors by me. For sale at my Etsy Shop.
Leave a comment for this post before 10pm MST on Monday, December 1, and you could be the lucky winner! Link back to this post and you get extra winning points! Okay, not really. But that would be cool, right? And links are definitely very appreciated.
From the Blog