My first ever giveaway! Hurrah!!! I really wanted to wait until I had 4 items in my shop – for some reason it just didn't seem official until all of my little "featured" boxes were full.
AND, what's even cooler (if such a thing is possible), I'm going to do one giveaway a week, for FOUR WHOLE WEEKS! That's right, a MONTH! Can you tell I'm just a teensy bit excited? :u) It's like Christmas around here, folks!
My first item to give away is one of the little Blanket Dolls I just finished for my Etsy Shop, YourNest.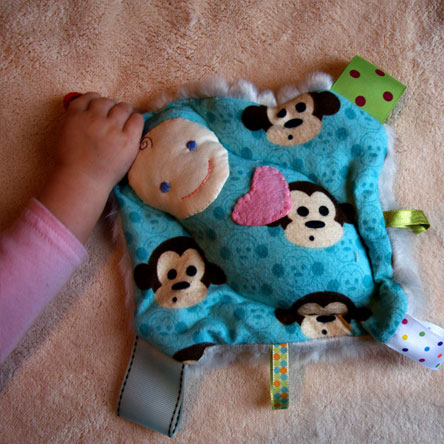 These are the cutest little dolls! Bridget simply loves them (as you can tell from the picture). The first one I made was actually for her, and she immediately connected with it. There are two versions: the furry version, which is backed with luxuriously soft grey faux fur fabric, and the shearling which is backed in fluffy white shearling fabric. Both come in either pink and blue argyle flannel or a fun monkey print flannel fabric.
These would make amazing shower gifts, or as a first Christmas gift for your little one, or a favorite niece or even nephew.
I had the idea to make these after I made Bridget her first dolly using the WeeWonderfuls pattern. She loves it, but I wanted to make something a little more portable and durable that has extra "snuggliness" built into it, and came up with these. And yes, the "fur" is as soft as it looks!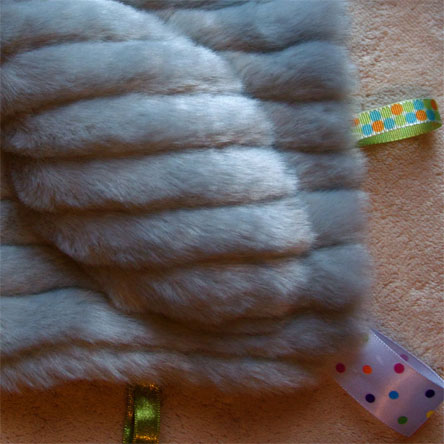 To get one for your very own, leave a note (with an email address, so I can find you if you win) in the comments for this post before Monday night, November 24th, 10pm MST. Tell me one item you would really like to see in the YourNest shop.
Also, if you have your own blog, I would really appreciate a link back to this post. This is of course not required, but you know your friends want the chance to win this doll, and what will they do if they find out you've been hiding your giveaway finds from them?! I don't think you want to find out. So link. :u)
I will randomly pick a winner, and announce him or her on Tuesday.

Comments for this post have been turned off.
From the Blog