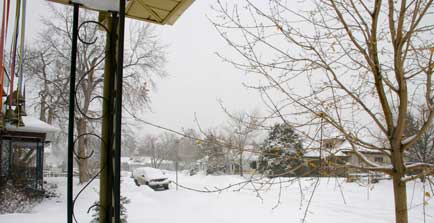 I guess I'm not really a gardening nut. I just have a few small flower beds and I haven't even planted a veggie garden yet (although I hope to do that someday soon). But I sure do enjoy my time in the garden. It's a form of relaxation/exercise that combines many of the things that I enjoy into one hobby.
During the winter months, that hobby is dramatically reduced. Dramatically. Toward January/February, I begin to feel quite forlorn. Especially when a couple of feet of snow cover the ground, and I have to put on my hubbies' big boots just to take veggie scraps out to the compost heap (which I built with my own two hands last fall – thank you very much!).
At this time of year, indoor gardening, although not quite as fulfilling as the sink-your-hands-into-the-earth, dirt-under-the-fingernails, get-an-aching-back involvement of the outdoor variety, is definitely a lifesaver, and can do a good job of tiding me over until the next growing season (or at least until I'm growing some seedlings to plant in the spring).
Enter (tum ta da tum!) – windowsill herbs!

Ali and Brett, my sister-in-law and her hubby, gave me a little windowsill herb kit for my birthday (thanks, guys! I'll send you a real thank-you note soon!). They bought the cutest windowsill pot set – 3 pots with a shared tray – and sent them along with three garden in a bag herb kits.
These things make great gifts! I should know :) You can give them on their own (the bag can act as the "pot"), or with a pretty pot. The bags contain the soil and a packet of seeds, as well as what they call "drainage discs", which confused me until I realized they were talking about the packing peanuts that were in the bag (since the bags don't have holes in the bottom, I guess this helps keep the soil from getting soggy if you overwater a bit).
In addition to my windowsill garden, my little bonsai tree (Buddie), has helped with the appeasement of my green(ish) thumb.
Buddie was also a gift – from my brother and sister-in-law. He likes to be pampered. And since that's what I like to do, well, I think we have a match! I give Buddie a little spray bath once a week to help him humidify (sometimes more since our house gets so dry in the winter). I also check him once a day or so to make sure that his soil is moist. There isn't a lot of it so it gets dried out easily.
How about you? Do you get antsy for green things during the winter months? How do you cope?
From the Blog