For my awesome SIL! She sells gorgeous jewelry on Etsy at knock-your-socks-off (in a good way) prices! Go forth and check it out!
Warning! Technology is discussed below! Most details are probably correct. But no guarantees.
I keep up with a lot of websites. Probably more than your average person. I might be addicted. But I'm not ready to admit it.
There are my faves, which I highlight in the sidebar of my blog, but there are also quite a few others I visit on a semi-regular basis. This is all made possible by a little gadget called RSS , coupled with it's corresponding program, called a Feed Reader. I don't understand exactly how it works, but I don't need to.
To my understanding (very basic, to say the least), this is how it goes:
I go to a new website. "Hm," I think, "This site is nifty. So nifty I would like to know more of what is going on here."
So I find the RSS button on the page. Some sites put 'em right up there, and others hide them away. But I'm pretty sure most newsy/blog sites have one. (Mine is hiding away on the left just above the Etsy pictures.) I click on it. If it pops up with some options, I just make sure and choose the one that says "RSS".
Now I'm set. Maybe I surf around a little more, find 10 more sites that I like. The next day, while Bridget's napping, I'm busy enjoying the quiet, chores are done (yeah right), and I'm spending some time on the internet. I think to myself, "Oh! I found all those cool websites yesterday! I wonder if any of them has any new content!" So I go to my feed reader (I use NetNewsWire, but there are many others), open it up, and check for new content.
This is what I see: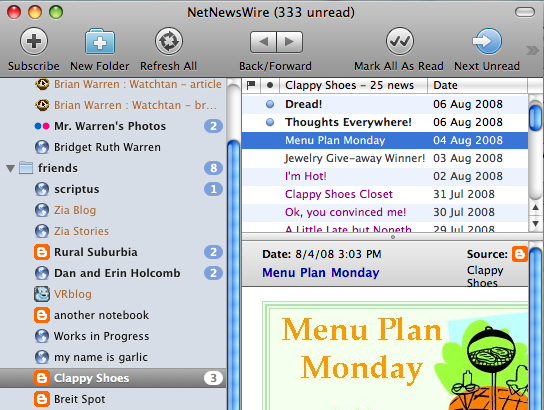 My nifty feed reader has magically been at work while I was gone. It cleverly knew that I wanted to stay updated on the status of those blogs, and so it went to them and when they got updated it was thoughtful enough to let me know! So sweet of it.
I like to read my blogs in my internet browser, so I usually double-click the entry to make it come up in a browser window but if I wanted I could probably read everything in this feed-reader program. Oh, and in case you were wondering, a browser is Internet Explorer or your equivalent – personally, I'm partial to Firefox or Camino. Basically, it's your mode of transportation throughout the wide world of the web.
So that's the mostly-short version. If you read this, and you're thinking to yourself, "I don't understand! Why would anyone want to do that?!" don't worry about it. You have your system, and it works for you. If, however, you are looking for something to support your addiction to gazillions of websites, I have the answer! Actually, someone else does, and I'm presenting it here. But saying that doesn't have the same ring to it.
Anyhow, here I give to you the solution of your website-addicted dreams. I'm such an enabler.
If you'd like to know more about this topic, there's a great video called "RSS in Plain English":
Lookit the sweet little outfit! Grosgrain just amazes me with her fabulous creativity.
Brian is now in week 5 of the Hundred Push-ups challenge. Tonight he did over 160 push-ups (with a few rests in-between). Amazing, huh?
Sadly, I had to withdraw myself from the challenge. Constantly lifting and holding my sweet baby, compounded perhaps by the three weeks of push-ups that I did make it through, has caused the wrist of my left hand to be very painful. I think I strained it, and now I'm wearing a thumb splint to help it to heal (thanks for the great advice, Jenny!). Having my thumb encased in a stiff wrap (gets a bit sticky with the summer being all hot and summery and all) isn't the most comfortable thing I've ever experienced, but not wearing it is decidedly uncomfortable.
I did make it all the way up to 30 consecutive push-ups before I wimped out, though. From a gal who started out struggling to make it through 1/10th of that, I'd say it's not bad! And I'm still going to be in a challenge. I'm just making up my own.
Who's for Two Hundred Sit-ups? Anyone? I could make a website…
No, seriously, that's what I'm going for. Actually, crunches. I'll keep you updated on the progress. Right now I'm on day one of week one. A bit winded, but I'll make it. Unless something else gives out.

Let me just say Joss Whedon is a genius. A very funny genius.
Did you wonder what the Hollywood writers did during the writer's strike? I mean, I know they picketed, but I presumed they didn't do that ALL the time. And I was right! I give to you (dum da da dum) Dr. Horrible's Sing-Along Blog!
I'm kind of late to this party, but check it out anyway. Sadly, we just missed the free version, but that's not their fault, and it's now available on iTunes! After watching it tonight with Brian, my opinion is that it's totally worth the four bucks to download all three episodes. You'll not only be investing in 45 minutes of chuckles, you'll be investing in the development of this too-long ignored, but quite vital film genre – Evil Villain Musical. Oh yeah.
Oh, and don't forget to read The Plan.
Welcome, visitors from Tip Nut! What an honor to get to be included among so many other awesome crafty projects (combine gardening with crafting, you say?! Be still, my beating heart!)
Thanks for the link!
How cool is this?! Now you can make a fort even if you don't need to buy a new fridge!
fridgeboxworld.com
Found via RookieMoms
Check out this nifty set of interviews with the "success stories" of the crafting world. A little dream of mine is to someday have some kind of crafty side-business – all the more excuse to do what I love, right? These interviews offer encouragement and advice to other with that same dream.
Go for it, girls!
Do you like Etsy? I really like it. I could spend all afternoon browsing though all the amazing, beautiful, quirky options. And don't get me started on
beautiful and useful. Not only are the items you buy on Etsy original and lovely, but you are supporting independent artists! What a wonderful combination!
Etsy is a big and wonderful world. But a little overwhelming, especially if you just want to browse. One thing that I've found is a nice way to find stuff that I like is to find one item I like, and then go to that seller's Favorites. Hopefully they have a lot of things favorited, many of which will be similar in style to their own things.
Just a little extra, I found this download on Etsy, today. Free or with a $2 donation. And so many other cute things in that shop.
Have fun!
So here are some more blogs. Specifically ones that make me laugh (not that other blogs never do, but these more often than others).
Cute Overload
A great fix if you're having a rough day. Loads of cuteness (i.e., Adorable animals in various adorable poses. With captions that make me laugh. What's not to love?) I visit this pretty much daily (just in case – you never know when you're in for a rough one, and I intend to be prepared!)
Dooce
If you haven't jumped on this bandwagon yet, there's still plenty of space! Dooce (a.k.a. Heather Armstrong) is one of the spear-headers of mommy blogging, and has had a lot of publicity in the past couple of years. She has a very clever way of writing the truth that is so spot-on it just makes you laugh. That and she's just funny. If talking about poop bothers you, though, it's probably not for you.
There are some other blogs I like to keep up with because they are written by friends (I do have some real live ones, you know!). So I won't list them all here, because that would just be like a mom going through her baby's pictures and describing each one in painful detail. I don't know of any one who would do that, do you? :u)
That said, I do want to give plugs to a few.
One is my DH's blog, Be Good Not Bad.
Some of his posts are a little over my head, but Brian has a great way of explaining hard to explain/understand techie things, and has some really great things to say too.
Another is the blog of an amazing artist friend from college, Vance Reeser. He has several really cool items that he's selling, including downloads of some neat videos that he animated, as well as prints and original work. And a special he's currently having on a children's book he's writing and illustrating. Pretty nifty, no?
I might need to do another post on parenting blogs I sometimes visit – what do you think? Have you had enough of the link-fest? :u)
From the Blog