Hi, Everyone! I have some fun pictures to share today.
First, these Beautiful Roses were a gift from my amazing hubby. Since our anniversary falls on Dec. 22, and we're usually spending fun time with family about that time, we usually end up celebrating a little late. Soon after we returned from our Christmas vacation, I came home from work to a smiling hubby and these lovely things (and mind you, I hadn't dropped nary a hint!) What amazing thoughtfulness.
Happy 4th Anniversary to us!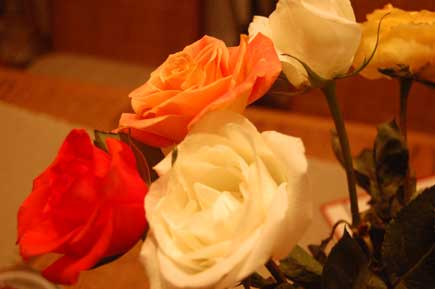 Second big slice of news is, instead of buying big Christmas gifts for each other this year, we decided to buy one big gift for ourselves. See, we (probably mostly me, but Brian as well) have had our eyes on KitchenAid mixers. They're like the Holy Grail of mixers, and with all the pretty colors…well who wouldn't want one? Before you tell me the answer to my question, just let me tell you about this one. We got it from Amazon.com, refurbished by the manufacturer.
KitchenAid still gives a six-month warrenty with the refurbed mixers, however, because it comes in a "refurbished" box (and doesn't come with the pour shield usually included with this model), we only had to spend $150 on it, instead of the $330 that we would normally have to plunk down. That's…over half off! Not a bad deal, if I do say so myself. Also a deal that I would not have found were it not for my amazing Brian. (Thanks Honey!)
With no more ado, let me introduce to you our Accolade 400 KitchenAid Mixer, in stunning Honeysuckle Yellow (pictured in action with beer bread batter)!!!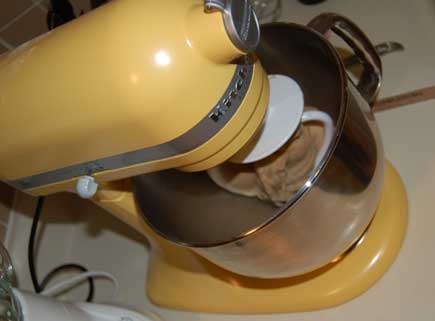 We just might have to name this little lady. Any ideas?
From the Blog

Anna's Nest is the craft and tutorial website for me, Anna Warren. It's also where I keep my blog. Enjoy!
Blog Categories
Archives